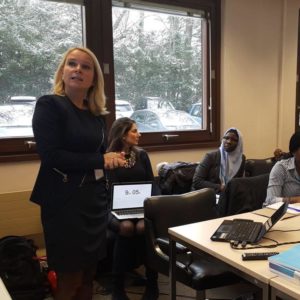 My passion for helping others is a meaningful purpose that has driven me throughout my life. Before coming to Switzerland I worked as a Public Health Nurse at a community health centre in Norway where most of my clients where refugees families. Subsequently I completed a course in multi-cultural health work focusing on refugee politics internationally.
As a migrant myself I had to leave my own work to come to Switzerland. Like so many others I was living in a strange country, without the local language and with no support network myself. It was tough.
I joined Coucoudre hoping to use my existing skills to the charity as well as giving myself a sense of purpose. I have loved being part of a growing start up managing all aspects of operations and sales as well as having direct contact with refugees.
In addition I now work as a UN representative in Make Mothers Matter in the UN in Geneva, where my focus is in health relate to mothers and children.
In my spare time my favourite place to be is with my family in the mountains. In the mountains I find my peace.